Regular price
$ 44.99 USD
Regular price
Sale price
$ 44.99 USD
Unit price
per
Sale
Sold out
View full details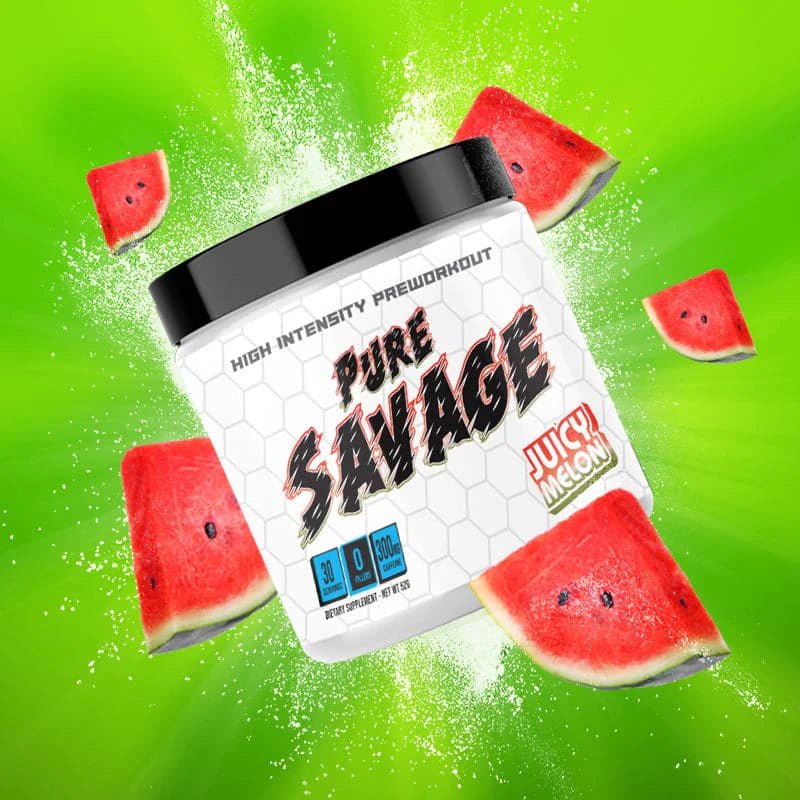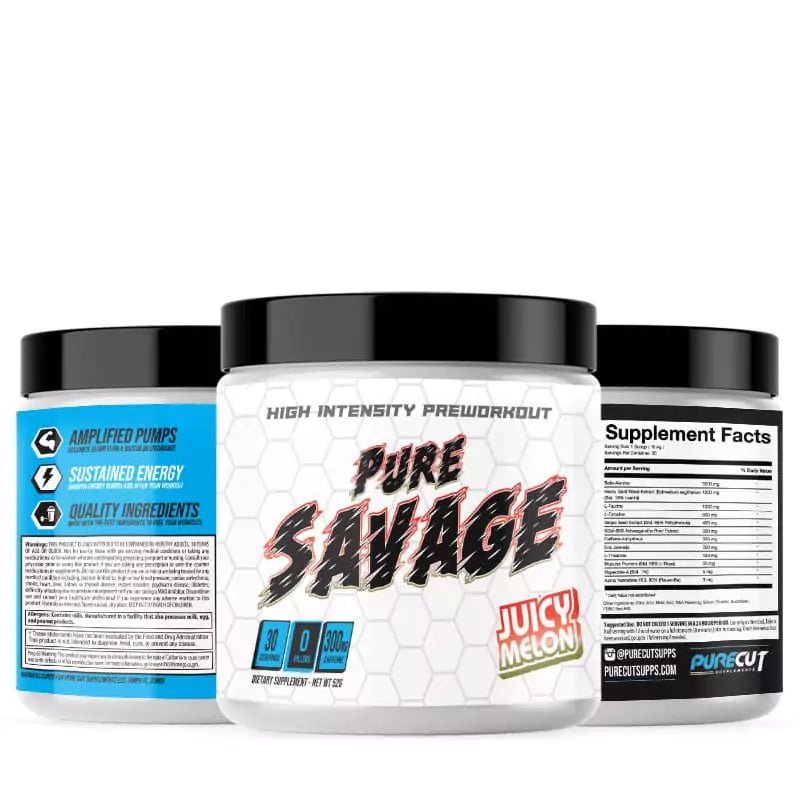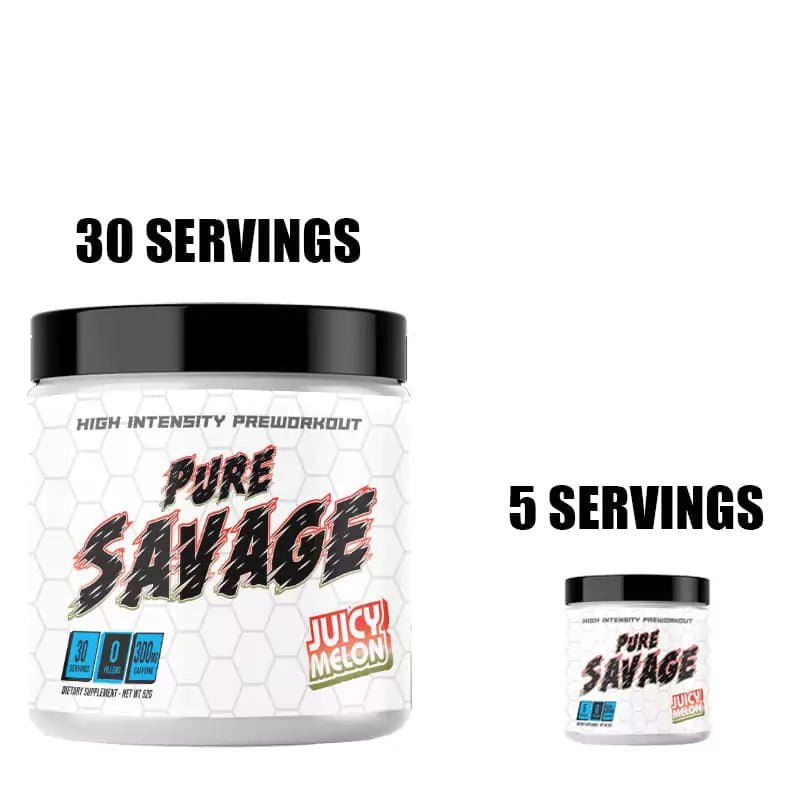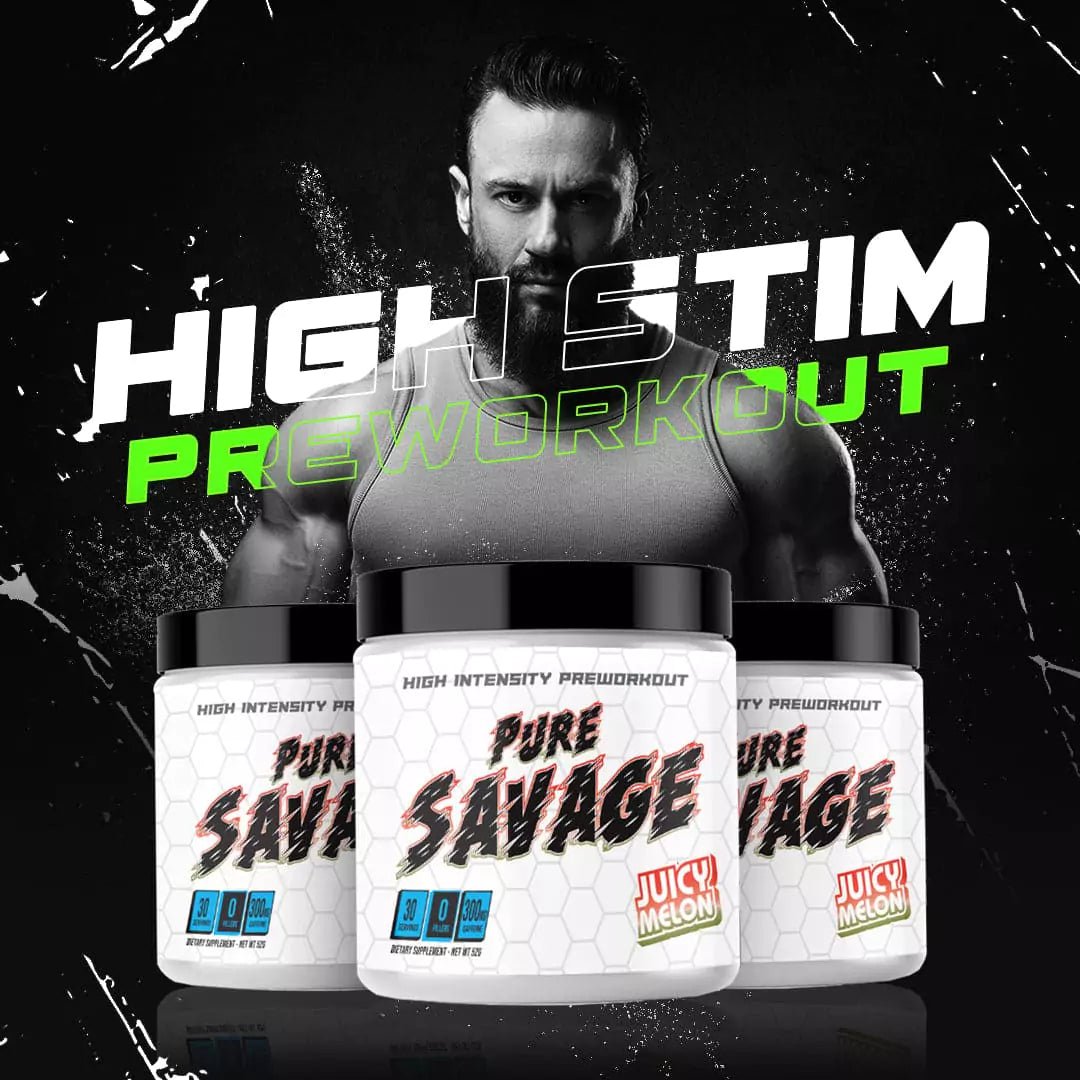 Made In the USA
NSF and GMP certified facilities
Premium Quality
No proprietary blends
HIGH STIM PREWORKOUT: Formulated For Intense Workouts
Pure Savage is our newest high stim preworkout. Made from the most effective ingredients available, this will help you get the most out of every rep (even on those days when you're just not feeling it)

Each ingredient in Pure Savage was selected to give you the perfect workout. What does that mean for you? Each time you take this preworkout you'll experience...
✅  Insane workouts with the boost in energy and focus that keeps you alert and dialed in
✅  A boost in strength, endurance, stamina, and muscle. Get ready to hit new PR's
✅  Improved blood flow to accelerate muscle growth, improve vascularity, and give you the sickest pumps
✅  Zero crashes, which gives you an elevated mood and energy levels throughout your entire day
You deserve to know exactly what's in your preworkout. Our high stimulant formula includes...
🧬  3200mg Beta Alanine
🧬  300mg Caffeine
🧬  300mg Ashwagandha
🧬  5 Different Stimulants
🧬 12 Total Cutting Edge Ingredients
When you take Pure Savage, you aren't just getting an amazing formula. We perfected everything from mixability to taste. This means no leftover chunks at the bottom, and mouth-watering flavors that will have you smacking your shaker to get every last drop out.
One scoop is all it takes for you to feel the difference and get the most out of every single workout. Your gym partners will be wondering who this new beast is during your workouts. You can tell them if you'd like, or we can keep it our little secret.
Ingredients:
Beta Alanine - 3200 mg

Beta Alanine is the ingredient that gives you that tingling feeling after taking a preworkout. You get this feeling because Beta Alanine dilates your blood vessels to allow more blood flow to your muscles, which gives you a more vascular appearance. Beta Alanine has been shown to increase muscular strength and power output, which leads to bigger lifts and a more sculpted physique. Beta Alanine has also been proven to increase both anaerobic and aerobic endurance, making you a more all around athlete and a healthier individual.
Horny Goat Weed Extract - 1000 mg

Horny goat weed is a plant with the botanical name epimedium. The active ingredient in the herb is icariin. Icariin has powerful vasodilatory properties to keep blood pumping for optimum vascularity. This is incredibly important for peak workout performance. The rejuvenating compound helps you go the extra mile with powerful pumps and has various medicinal benefits for bodybuilding, pain, fatigue, and other conditions.
L-Taurine - 1000 mg

L-Taurine is thought to boost athletic performance by reducing muscular fatigue, thus allowing an athlete to hold a given intensity for a longer period of time. Research shows that subjects who ingest taurine prior to or during exercise experienced increased endurance and performance. It also diminishes the damaging effects of excess fat, insulin, and glucose. It initiates the fat metabolism process and carnitine delivers that fat to the fuel centers to be used as an energy source.
L-Tyrosine - 500 mg

This amino acid is a precursor to some of the most powerful neurotransmitters that sharpen attention, support laser focus, and ramp up your workouts to an entirely new level. With acute stressful situations (like intense exercise) the body cranks up the release of the catecholamines, which means that levels eventually start to decline. But when you use L-tyrosine, you naturally boost levels to help correct any potential for imbalance.
Grape Seed Extract - 400 mg

The grape seed extract is a concentrated form of the beneficial compounds found in grape seeds. During exercise, the free radical formation can result in excessive muscle damage that can impede performance and recovery. Polyphenols found in the grape seed extract can help to neutralize free radicals, which may help reduce muscle damage and improve circulation which can lead to better muscle growth and recovery while maintaining strength.
KSM-66 Ashwagandha Root Extract - 300 mg

Ashwagandha is an adaptogen that has been used for centuries to enhance virility, strength, and energy. KSM-66 is the most effective form of ashwagandha for athletes who train and compete at peak levels. It enhances energy and endurance, improves muscle size and strength, assists muscle recovery, improves mental function, alertness, and oxygen usage.
Caffeine Anhydrous - 300 mg

Caffeine is one of the most popular energy boosting ingredients on the market. Caffeine helps improve wakefulness and mental acuity, which can be particularly helpful to those of you with busy schedules who can't always get a full night's sleep. Some of the other benefits include increased body coordination and improved cognition. This leads to more focused workouts, and a smooth feeling of increased energy both during and after your training.
Eria Jarensis - 200 mg

Eria Jarensis provides you with mood boosting effects due to its ability to increase levels of mood-elevating hormones in the body. These hormones are also associated with your concentration levels, alertness and focus. Taking Eria Jarensis can increase the quality of training, assist with fat loss and improve general concentration levels during the day, even after working out.
L-Theanine - 150 mg

By supporting a better recovery through its relaxation and mental regeneration effects after intense exercise, it helps create an environment that's more suitable and efficient for recovery. L-Theanine helps to balance the effects of stimulating ingredients so that you're energized and focused without feeling overly stimulated. It can also prolong the effects of caffeine so you don't experience a crash at any point during or after your workout.
Mucuna Pruriens - 50 mg

Research suggests that mucuna pruriens can significantly increase growth hormone levels impacting muscle mass and fat loss. The boost in epinephrine (adrenaline) and norepinephrine give a notable boost to energy and focus, without the edgy qualities that might come from the use of stimulant medications.
Huperzine-A - 5 mg

Huperzine was reported to significantly increase the amplitude of muscle contraction induced by nerve stimulation. Thus, one could suggest that huperzine may improve neuromuscular strength potential, alertness, and focus by increasing the endplate potential and brain neurotransmitters. Simply put, having sufficient acetylcholine available allows nerve impulses to be transmitted to muscles.
Alpha Yohimbine HCL - 3 mg

Yohimbe is a popular dietary supplement made from the bark of an African evergreen tree. Alpha Yohimbine speeds up your basal metabolic rate, allowing you to lose weight, even when you're not working out. Research has shown Yohimbine to reduce fat mass without affecting lean mass, which helps you optimize your body composition. It can also improve physical exercise performance by fighting off physical fatigue.
Worth Every Penny
Pure Savage is an investment in my health that I'm happy to make. The boost in energy and mental clarity is worth every penny. I'm impressed with the quality of this product and will continue to use it in my daily routine.
Consistent Energy Boost
Pure Savage has become a staple in my daily routine. The sustained energy levels have made a noticeable difference in my productivity. The only drawback is the price, but for the quality, I'm willing to invest.
Exceptional Product
Pure Savage has become an essential part of my daily routine. The energy and mental clarity I experience are exceptional. The fact that it's made from pure, natural ingredients sets it apart from the rest. I'm a loyal customer now!
Impressive Results!
Pure Savage has exceeded my expectations. The boost in energy and mental clarity is remarkable. I've noticed a positive change in my overall health since incorporating it into my routine. Highly recommend for anyone looking to optimize their well-being.
Revitalizing Energy
Pure Savage has revitalized my energy levels. I feel more alert, focused, and ready to take on the day. The natural ingredients are a huge plus for me. I highly recommend Pure Savage to anyone seeking a clean energy source.